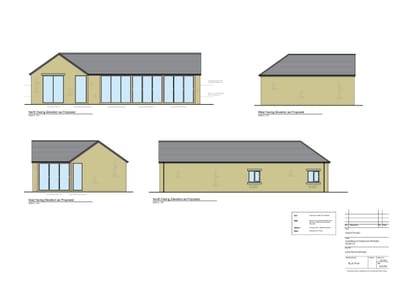 Holiday Chalet Approved in Uppermill Conservation Area
Working alongside PLanz Architecture a new holiday chalet has been granted planning permission in the Uppermill Conservation Area and Green Belt, on the site of a former timber stable. With views across the Huddersfield Canal and up to Pots and Pans this high-end holiday lodge will be ideal for couples and young families to enjoy the delights of Saddleworth as a tourist destination for short breaks especially during key festivals such as the Whit Friday Band Contest, the Rushcart Festival and Yanks weekend.
The holiday lodge will have a double bedroom with kitchen/diner and bathroom. It will be a modular building that is built off-site. It will be clad in cedar with its rear wall being clad in natural stone. A sedum roof is also proposed. There will be a retractable awning on the deck and fire pit.
Holiday Cottage Approve at Former Stables in Grasscroft
Working with Studio OL3 permission has been granted to convert a stable in the Green Belt into a two bedroom holiday cottage with outside hot tub with amazing views across the Saddleworth Valley.
The Council Planning Officers fully supported the need for additional tourist facilities in Saddleworth and granted consent for the lodge and cottage. Both schemes still needed to comply with strict park and access requirements as well as ensuring a satisfactory amenity is provided for existing and future residents.